Dear Brecksville Kids Dentistry Families,
It is hard to believe that on May 1, 2022, we will be celebrating our five-year anniversary here at Brecksville Kids Dentistry! With the help of my amazing team, Courtney, Nicole, Sara, Lauren, Kristina, Rachel, Jennifer, Paul, and of course, Balto, we have provided the best dental care with a fun twist to many children and young adults. So, to celebrate, it is with great excitement that I have a big announcement to make:
I am proud to announce that Dr. Jason Richards, DDS, will be joining me on July 18th, 2022 to help facilitate patient care. Dr. Jason and I have known each other for many years and have been waiting for the right moment in our careers to work together.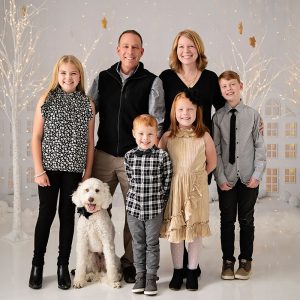 An Ohio native, he graduated from the Ohio State University College of Dentistry in 2000, completed a year of General Practice Residency at the Medical College of Ohio, then joined the Children's Hospital of Pittsburgh for his pediatric specialty training.
Dr. Jason has been practicing pediatric dentistry for nearly twenty years, and his favorite part is getting to know the kids and seeing them grow up.
Dr. Jason is Board Certified in Pediatric Dentistry and maintains professional memberships in the American Dental Association, American Academy of Pediatric Dentistry, and Ohio Academy of Pediatric Dentistry. He has also received his Certificate from the World Clinical Laser Institute. 
He and his wife, Dr. Patricia Raimer, have four children. Dr. Raimer is a Pediatric Intensive Care Physician at Akron Children's Hospital. She enjoys spending time playing and watching movies with her children. Dr. Jason loves playing soccer and snow skiing, among other activities, to stay in shape. Dr. Jason is excited to join the team in caring for your children at Brecksville Kids Dentistry!
Dr. Jason will be seeing patients on Monday and Tuesday, while I will be seeing patients on Wednesday and Thursday. To help accommodate our patients, we also are excited to offer more hygiene appointments Monday through Friday with Nicole and Sarah, our hygienists.
Wow! So many exciting things are ahead for Brecksville Kids Dentistry! I am so honored that you allow us to be a part of your family. Thank you for reading this long letter, and I look forward to you and your children meeting Dr. Jason!
Sincerely,
Dr. Jen