Pediatric Dental Services
---
---
Our fun and educational approach to dentistry is appreciated by our patients and parents alike!
---
Don't be surprised when your children ask you to hurry up and schedule their next dental appointment! Simply put, a dental appointment at Brecksville Kids Dentistry can be described as "a good time". In a nutshell, it's fun! But don't worry parents… we still provide the highest level dental care to your children. We just do it in the best possible way.
When our young patients are told what we are going to do, and then shown what we are going to do – they feel much more comfortable when we actually do it! This philosophy works well when it comes to pediatric dentistry.
Children are inherently curious, which is why we utilize a Tell, Show, Do approach. With Tell, Show, Do, children feel more involved and comfortable during their appointment.
Serving Special Needs Children
---
All children deserve the same level of gentle and compassionate care. Dr. Hechko has extensive experience working with medically, physically, and emotionally challenged patients.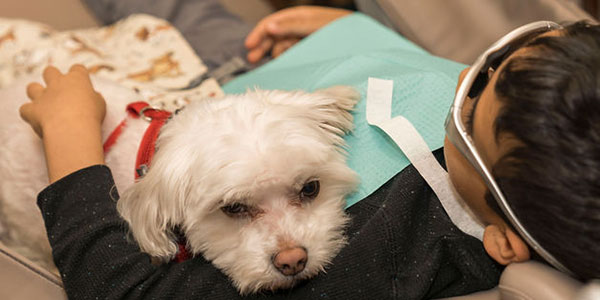 Schedule a visit with Balto!
---
Would a calm and lovable certified therapy dog help your child feel more comfortable in the dental chair? Balto, a hypoallergenic Bichon Frise, is available for appoinments three days a week.